Control of Cutting and Plotting Machines, Vector Converters and Book Folding Pattern Maker
Crafty49's Book Folding Pattern Maker V1
Description
The art of folding pages of a book to create a raised pattern is called Book Folding or Book Art or Book Origami. There may be other names for it.
The application will simply take a raster image, and create a number of folding/marking points. There is no guarantee that any image used will create a good folded book.
Cut and Fold is a different method, in that cuts are made into the page of the book and then folded.
Uses the Measure, Mark, and Fold Method (shortened to Mark and Fold), and the Measure, Mark, Cut and Fold Method (shortened to Cut and Fold)
Can also create a pattern chart/graph/line/stripes marking pattern (no measuring required)
Book size is from 5cm/50mm to 40cm/400mm
The number of folded page can be up to 1,000
Removes blank book leaves from the design pattern
Removes excess white from around the design pattern
Invert (make negative), and Mirror the design pattern
Add top and bottom margins to the design pattern
Add blank leaves before and after the design pattern
Adds 'spacer folds' between the design pattern for the Cut and Fold method
Choose between leaf or page numbering, with an adjustable start value
Supports most of the common raster image files
Image files can be dragged and dropped onto the main form
Copy and paste, from applications such as Paint and Word
Creates a PDF file with preview images and pattern marking points
Creates separate preview images and a CSV file of marking points for creating custom documents
Can be used to create custom book folding patterns to sell
System Requirements
Requires Windows XP, Windows Vista, Windows 7, Windows 8.x or Windows 10.
Microsoft® .NET Framework 3.5 with Service Pack 1 (download from Microsoft)
At least 13 MB of hard disk space
At least 30 MB of memory
Screen Shot of the Main Form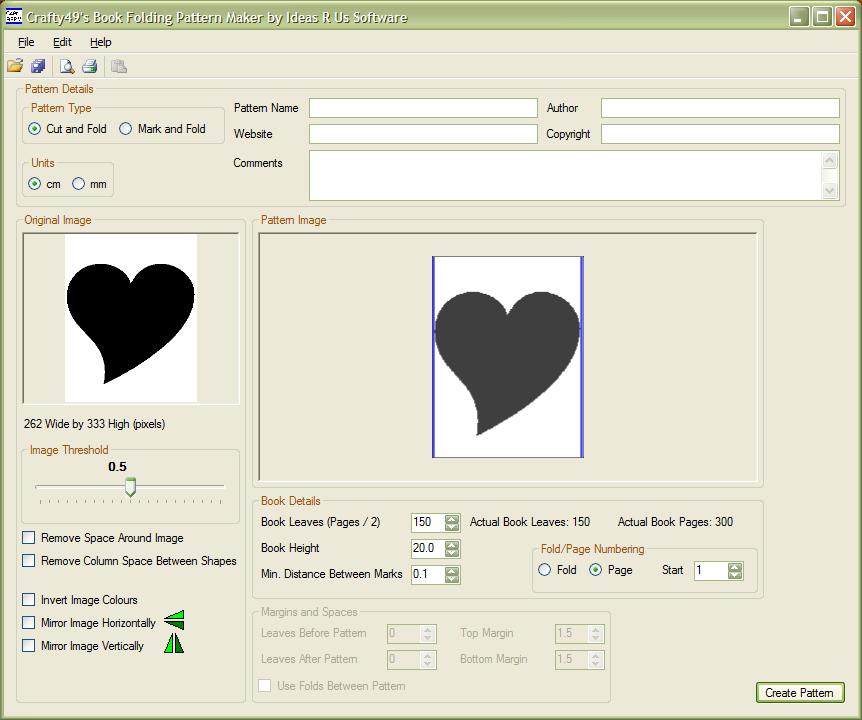 Examples of Folded Books using both the Cut and Fold and Mark and Fold Methods
| | |
| --- | --- |
| Cute Bunny using the Cut and Fold Method by Helen Rich (c) 2016 | Candle using the Cut and Fold Method by Chris Ashworth (c) 2016 |
| | |
| --- | --- |
| Ballet Word using the Mark and Fold Method by Helen Rich (c) 2015 | Westie Dog using the Mark and Fold Method by Chris Ashworth (c) 2015 |
Terms and Conditions
No selling or renting of the executable file
Report any issues via the forum