Control of Cutting and Plotting Machines, Vector Converters and Book Folding Pattern Maker
FCM Thumbnail Viewer or File Viewer (Used by Brother Scan and Cut Machines)
View the thumbnail (preview) images that are saved with the FCM files.
These are the 'preview' images that are seen on the coloured LCD (Liquid Crystal Display) screen of Brother Scan and Cut machines.
System Requirements
Microsoft® Windows XP, or higher
Microsoft® .NET Framework 3.5 with Service Pack 1 (download from Microsoft)
At least 3 Mega Bytes of hard disk space
Instructions
Known Issues
Long files names are truncated, but they can still be made out/found.
Menu Commands
File -> Open Files
Select a single or multiple files to view. The number of FCM files read is displayed on the bottom status bar.
A bad or damaged FCM file is indicated by an image of a red circle with a line through it (see the Screen Shots below).
Drag and Drop Files
Select a single or multiple files from Explorer (or another file viewer application), then drag the selected file(s) to the thumbnail area.
Screen Shoot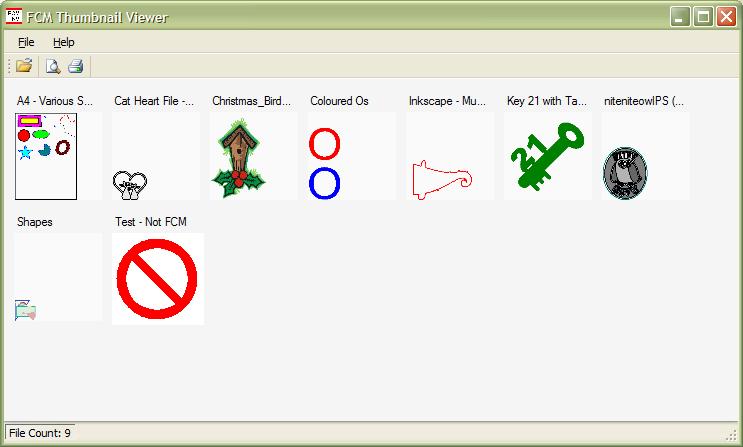 Terms and Conditions
No selling or renting of the executable file
Don't distribute the executable file, link it to this website
Report any issues via the forum
There is no association between the author of this website and Brother. This is NOT Brother approved.