Control of Cutting and Plotting Machines, Vector Converters and Book Folding Pattern Maker
Silhouette Studio Library File Extractor V1
Description
The entries in the Silhouette Studio library don't use human readable names; the filenames are converted to numbers. This makes it difficult to see the files.
The files in Silhouette Studio library can store any file type supported by Silhouette Studio (e.g., BMP, PNG, GSD, Studio). Each entry in the library consists of a file type, a preview thumbnail and some user entered information about the file.
All the files downloaded from the Silhouette Design Store (http://www.silhouettedesignstore.com/) are first stored in the Recent Downloads folder, but they can be later moved to any user created folder.
The application will extract the original file type, the preview thumbnail and the library file details for each library entry in the Silhouette Studio library.
The extraction produces 3 types of file: -
The original file format that was imported into the library, Bitmap/Raster or Vector file
The preview thumbnail as displayed in the Silhouette Studio software, a PNG bitmap
The library file details (Artist, Description, Category, Keywords), in a text file
The fonts, patterns, and recycle folder are extracted. The folder structure of the Silhouette Studio library is maintained.
System Requirements
Requires Windows XP, Windows Vista, Windows 7, Windows 8.x or Windows 10.
Microsoft® .NET Framework 3.5 with Service Pack 1 (download from Microsoft)
At least 3 MB of hard disk space
At least 25 MB of memory
Screen Shots
This shows that there are 377 library entries in the Library in Silhouette Studio, and the selected library entry details.
The Main Form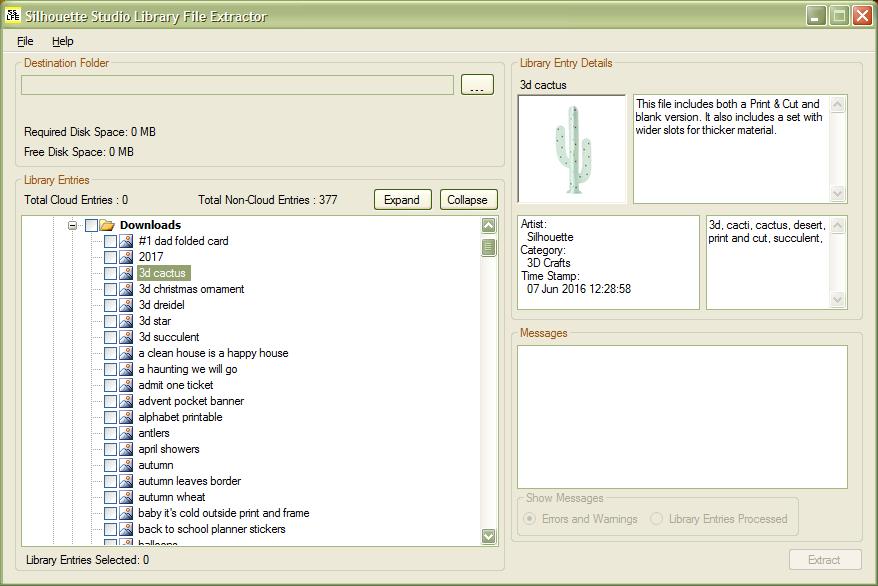 Terms and Conditions
No selling or renting of the executable file
Don't distribute the executable file, link it to this website
Report any issues via the forum
There is no association between the author of this website and Silhouette America.